Regular price
Sale price
$27.00 CAD
Unit price
per
Sale
Sold out
SHIPPING TERMS:
Please click the link to read the terms as we have different shipping methods for different items.

Can't decide which treats to get? Our sample bundle contains our most popular treats in fewer quantities, so your buns can try them all!

A BUNDLE WILL INCLUDE:
*Items vary depending on the season* please look at pictures to see what our sample bundle currently has.

1) Four bunny biscuits (two of each flavour)
2) Four chocolate chip nibbles
3) Four love bunnies (two of each)
4) Four birthday cake cookies (two of each)
5) Two of the hay trio 
6) Two blossoming hay sticks (one floral and one non-floral)
7) 0.28oz (sample size) of our healthy hearty forage blend

TREAT INGREDIENTS

Bunny biscuits
Green bunny: organic oat flour, dandelion, wheatgrass echinacea purpurea herb

Pink bunny: organic oat flour, beet, radicchio, hibiscus

Chocolate chip nibbles
Organic oat flour, banana, burdock root

Love bunnies
White bunny: organic oat flour, pear, beet

Pink bunny: organic oat flour, beet

Birthday cake cookies
Oat version: Organic oat flour, nectarine, apple, wheatgrass, beet, spirulina
Hay version: Orchard hay, banana, jasmine flowers, cornflower, heather flower

Hay trio
Banana: oat hay, banana, pumpkin 

Mango: orchard grass, turmeric, apple

Strawberry: timothy hay, blueberry, hibiscus 

Blossoming hay sticks
Red hay stick (base): oat hay, *dragon fruit*, strawberry, dehydrated red bell pepper, hibiscus
Toppings: calendula, blueberry leaves

*Dragon fruit seeds are included and they are safe to consume for rabbits*

Green hay stick (base): oat hay, mango, turmeric, liquorice root, dehydrated orange, dehydrated butternut squash
Toppings: rose petals, peppermint leaves

FORAGE INGREDIENTS AND BENEFITS:
1) Dandelion/red dandelion: is a safe vegetable for rabbits to consume without being limited. It contains a ton of nutrients and is one of the fan favourites of many rabbits.
2) Echinacea purpurea: this herb is an immune system stimulant and can act as an antibiotic when consumed,ed in higher quantities. It has anti-inflammatory and anti-viral properties.
3) Lemon balm: is known to be anti-bacterial, anti-viral, helps with bloating and gas, diarrhea, and is also known to reduce stress.
4) Chickweed: has anti-inflammatory properties which can help with healing cuts and is also known to help with molt support.
5) Hibiscus: helps regulate the body's temperature, helps strengthen the immune system to fight colds and infections.
6) Dehydrated papaya: known as a digestive agent that helps during molt seasons.
7) Black oil sunflower seeds: help to give a shinier and healthier coat because it adds healthy oils into the diet. This can also help during molting season.
8) Dried goji berries: they are known to be good for the eyes because they carry high levels of beta-carotene and zeaxanthin. They also have properties to reduce inflammation and protects the kidneys and liver.
9) Carrot top leaves: helps lower blood cholesterol, weight loss, and improve eye health.
10) Blackberry leaves: helps stimulate appetite and manage stools.
11) Blackcurrant leaves: appetite stimulant and is high in fibre.

IMPORTANT NOTE:
These treats are safe to give to rabbits, but are high in sugar content due to the fruit juice, so these treats should be given in small amounts and should not be given daily. Fruit should not be given to rabbits younger than 2 months old. If your rabbit is under 6 months old they should be given fruit sparingly. Rabbits have sensitive stomachs, so new treats should be introduced slowly in small amounts.

RECOMMENDED to use within 2 months. This is intended for healthy pets and should be given only as a treat and not to replace their meals.

USE:
We advise to give a maximum of one of these treats a day or less if your rabbit has consumed other treats. Rabbits should not consume too much sugar, so be mindful of the amount to give if this treat is given in addition to other sugary treats. Rabbits have sensitive stomachs, so new treats should be introduced slowly in small amounts

STORAGE:
Store in a closed airtight container in a cool, dry place

FOR FORAGE (READ BELOW)

STORAGE:
This is good for 2+ months as long as it is kept in an airtight container in a cool dry place. Usage: Maximum 1 tablespoon a day per 5 lb rabbits

IMPORTANT NOTE:
This is not to replace veterinary visits and this forage is intended for healthy individuals. Rabbits should also be slowly introduced to this because of their sensitive stomachs.
Share
View full details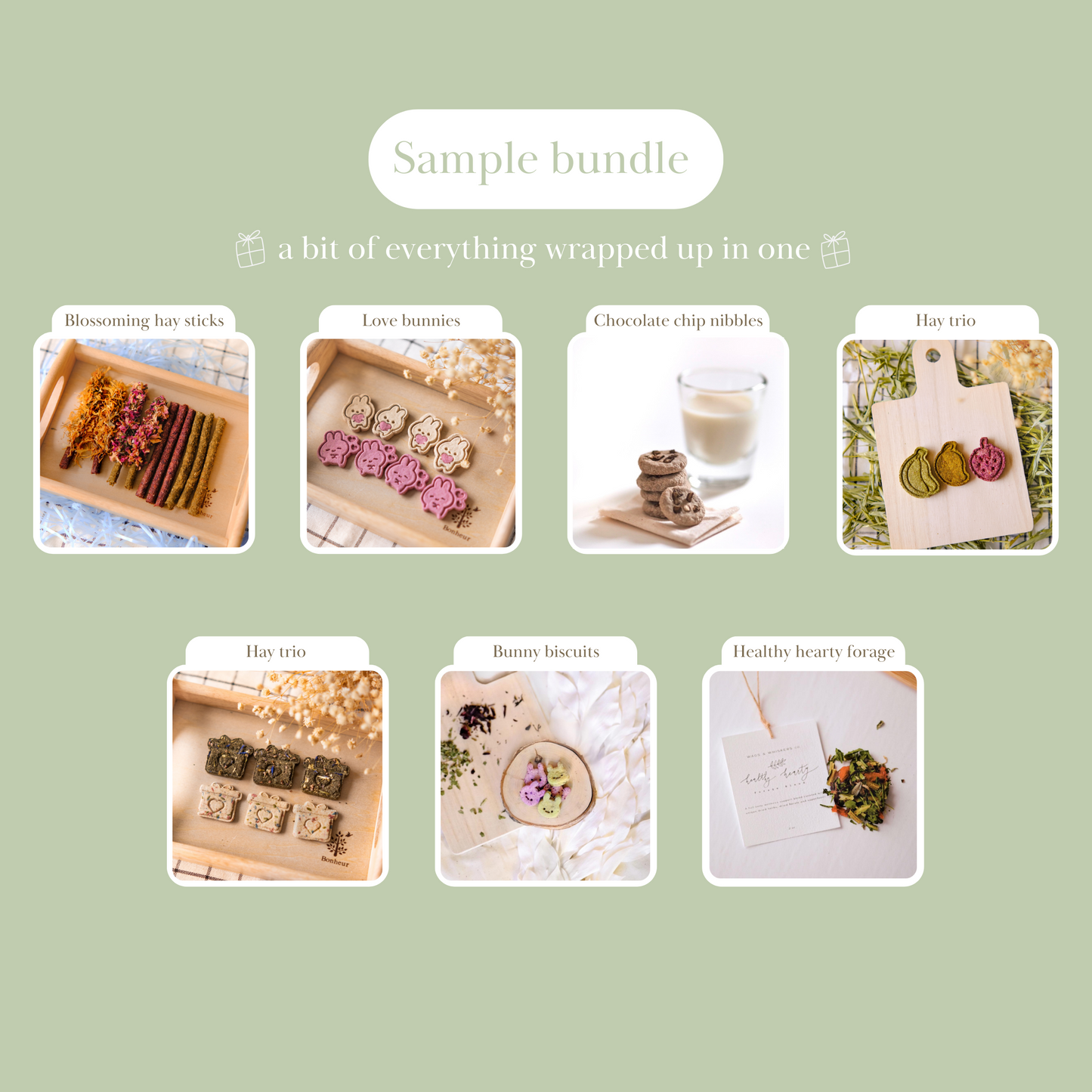 More than just treats!
My rabbits like most of the things. And it all looks so cute. I wonder how much love is put into creating and packing everything.